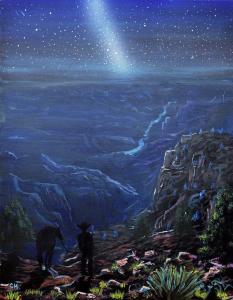 Tucson artist Chance Kafka will debut the 2020 Southern Arizona art exhibition circuit with a showing of "Grand Canyon" night in "Shock of the New West" at the Tubac Center of the Arts in Tubac, Arizona.

Kafka undertook the innovative nocturne in the fall of 2019 as an expression of night time splendor of the earth's Grandest Canyon. Having recently returned from a solo trip to photograph and study the canyon, he was compelled to unite elements of the natural landscape, the ethereal presence of the Milky Way stars in the night sky, and a haunted yearn for the Old West with the the incorporation of a cowboy figure and his horse overlooking the Colorado River cutting and forming the inky landscape.

"I have always loved stars, and some of my favorite paintings have stars," says Kafka. "There is something so magical about the night sky, and using the light of stars to create a scene that is superficially bright. I find it really otherworldly."

"Shock of the...